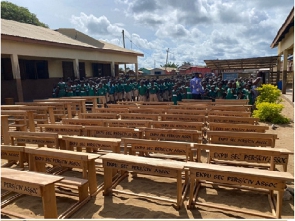 According to a study, a well-designed classroom can boost a child's progress by 16%, the classroom atmosphere should be welcoming and encouraging to increase a child's progress academically.

Of all the accessories that make a classroom welcoming and the learning experience of any child favorable, the classroom desk or furniture takes precedence. Children with bad or no classroom desks are always at a serious academic disadvantage.

The lack of desks in schools in Ghana remains a serious problem and this challenge affects the teaching and learning activities of schools that are affected.

Classroom furniture or desk is key to high-performing students as it increases student collaboration, focus, involvement, and comfort.

Unfortunately, the lack of desks in classrooms in some schools in Ghana is a common occurrence and Ekpu Catholic Primary School, a school located at Half Assini in the Western Region of Ghana is not an exception.

However, on Monday, May 8, 2023, fortune smiled on students of Ekpu Catholic Primary School when the good men of the Ekpu Soldiers Association under the leadership of Brigadier General, Musa Whajah, with a great appreciation for the academic advantage of classroom furniture to a child's learning progress donated 50 pieces of student desks to students of the Ekpu Catholic Primary School.

The management of the School was in utmost gratitude to the Brigadier General and his colleagues for the kind and thoughtful donation to the School.