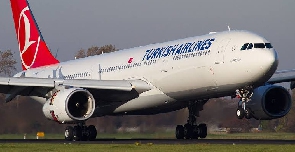 Mon, 18 Sep 2023 Source: DPA/GNA
A body was found in the landing gear of a Turkish Airlines plane, after it landed in Istanbul from Amsterdam late Thursday, a company spokesperson confirmed.
The person's identity and nationality were not immediately clear.

The police and the airline are separately investigating the incident, the spokesperson said.
An Airbus A330 aircraft, which flew from Amsterdam, landed at Istanbul Airport late Thursday, the private news agency Demirören reported. Technical maintenance teams later found a lifeless body during routine checks, the report said.
Source: DPA/GNA