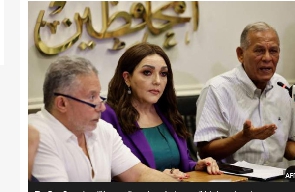 The main liberal opposition political movement in Egypt has said it won't nominate a candidate in the presidential election due next year after one of its leaders was sentenced to six months in prison.
The Free Current coalition said that Hisham Kassem had been a potential presidential candidate. He was found guilty of slander and verbally assaulting a police officer.

His supporters say the charges were politically motivated.
President Abdul Fattah al-Sisi is expected to announce he's standing for a third term, but has yet to do so.

The only person to have announced his candidacy so far, Ahmed al-Tantawi, has said his team has faced increasing harassment by the security forces.