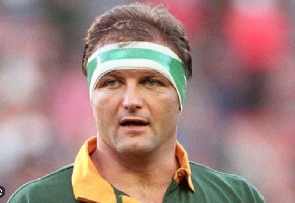 Former Springboks rugby player Hannes Strydom, who was part of the squad that won South Africa's historic first Rugby World Cup in 1995, has died.
Strydom died in a car accident in Mpumalanga province on Sunday night.

He was aged 58.

Strydom's ex-Springboks teammate Kobus Wiese told News 24 that Strydom's car, which had one other person travelling in it, collided with a taxi.
He is the fifth member of the 1995 Springboks team to have died.

In their historic World Cup win at Johannesburg's Ellis Park stadium, the team defeated New Zealand's All Blacks 15-12.

The game, which was the first major sporting event in post-apartheid South Africa, was seen as an important moment in the reconciliation of the country, with President Nelson Mandela championing racial unity under the slogan "One Team, One Country."