Former Nigerian presidential candidate fined for frivolous lawsuit to stop president-elect's Inauguration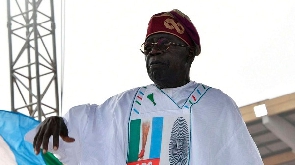 A Nigerian court has imposed a fine on Ambrose Owuru, a former presidential candidate in the 2019 election, for filing a suit with the aim of halting the inauguration of President-elect Bola Tinubu on May 29.
The court has ordered Mr. Owuru, who is also a lawyer, to pay a sum of $87,000 (£80,000) for pursuing what was deemed a "strange" and "frivolous" lawsuit.

In his suit, Mr. Owuru, who contested but lost in the 2019 presidential election, had urged the court to declare him as the rightful president instead of Mr. Tinubu.

Despite not participating in the 2023 presidential election, the lawyer claimed that he had won the 2019 presidential poll but was unfairly denied his victory.

In October 2019, the Supreme Court dismissed the suit, describing it as an abuse of the court process.

Following the announcement of Mr. Tinubu as the winner of the 2023 presidential election, Mr. Owuru filed another suit based on the facts of his previous case.
On Thursday, a three-member panel of the Court of Appeal in Abuja unanimously dismissed the suit.

The fine imposed on Mr. Owuru serves as a deterrent against filing frivolous lawsuits and abusing the judicial system.

This development showcases the Nigerian judiciary's commitment to upholding the integrity of legal proceedings and ensuring that legitimate cases are given due attention.

YNA