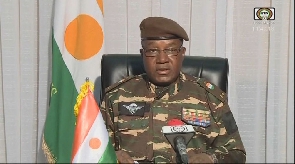 The military junta in Niger has reacted to an announcement by French president Emmanuel Macron that France will withdraw its ambassador and end all military co-operation with Niger following a coup.
"This Sunday we celebrate a new step towards the sovereignty of Niger," the junta said, in a statement quoted by AFP news agency.

The Abdourahmane Tchiani-led junta has over the past month engaged in diplomatic spats with Paris including ordering for the French ambassador to leave Niamey.

The French government insisted that it was not going to take orders from an illegitimate government since it still recognized the authority of deposed president Mohamed Bazoum.

"France has decided to withdraw its ambassador. In the next hours our ambassador and several diplomats will return to France," Macron told French media on Sunday, September 24.
He added that military co-operation was "over" and French troops would leave in "the months to come".

There are about 1,500 French soldiers in the landlocked West African country.

The witdrawal deals a hammer blow to France's operations against Islamist militants in the wider Sahel region and Paris' influence there.