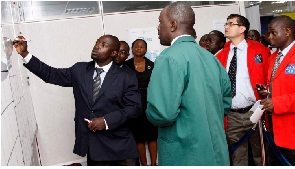 Persistent economic worries, weak returns from listed shares, closure of the dividend hunting season and fairly high interest rates on government securities have scared away several institutional investors from the Uganda Securities Exchange (USE) in spite of remarkable half-year results published by listed companies since last month.
Average stock market turnover amounted to less than Ush60 million ($16,001) per trading session in August while daily trading volumes averaged less than 500,000 shares according to recent USE trading reports, a sign of low institutional investor activity.

"Several large pension funds have exited their long-term investment positions in the equities markets because of diminished returns. Most of the equities portfolios have generated returns of around 3-4 percent in Uganda. As a result, large investors have migrated to fixed income assets, real estate and private equity investments that offer better returns in comparison," explained Allan Lwetabe, director for investments at the Deposit Protection Fund of Uganda.

Total sales revenue recorded by MTN Uganda Ltd during the first six months of 2023 stood at Ush1.27 trillion ($338.7 million) compared to Ush1.09 trillion ($290.7 million) in 2022, according to latest financial results. Its half year dividend rose by 19 percent to Ush5.6 ($0.0015) per share equivalent to a total payout of Ush125.4 billion ($33 million).
Profit after tax registered by Stanbic Holdings Uganda Ltd rose from Ush162 billion ($43 million) in June 2022 to Ush200 billion ($53 million) in June 2023 while its total incomes increased to Ush550.5 billion ($146.8 million) from Ush455 billion ($121 million). Umeme Ltd's total revenues grew by 19.9 percent to Ush1.076 trillion ($286.9 million) while DFCU Ltd's incomes rose from Ush187 billion ($49.8 million) in June 2022 to Ush198.5 billion ($52.9 million) in June 2023, while profit after tax increased from Ush18.7 billion ($4.98 million) to Ush29.3 billion ($7.8 million) during the same period under review.

However, the electricity distributor's amortisation costs surged from Ush79 billion ($21 million) in June 2022 to Ush210 billion ($56 million) in June 2023 amidst a one off impairment cost incurred by the company prior to the expiry of its 20-year concession agreement in March 2025. The company declared a half year dividend of Ush24 ($0.006) per share.

In contrast, British American Tobacco Uganda's profit after tax dropped by 2.07 percent to Ush3.79 billion ($1 million) at the end of June 2023. Uganda Clays Ltd posted a loss of Ush690 million ($184,006) at the end of June