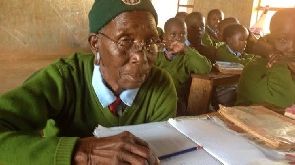 Kenyan Priscilla Sitienei reputed as the world's oldest pupil has died at the age of 100, local media portals have reported.
The Standard newspaper quoted her grandson Sammy Chepsiror, as saying: "She died peacefully in the presence of some family members. We are thankful for the 100 years of her life. She made all of us proud."

The deceased who was referred to as 'gogo' a local terminology for grandmother made news when she returned to school a decade ago at the age of 90.

She enrolled for primary education at the Vision Preparatory School with kids considered to be her great-great grandchildren having previously worked as a traditional midwife.
The BBC Africa LIVE page explained why she failed to attend school as a child.

She wasn't able to attend school as a child but when the Kenyan government began subsidising primary school fees in 2003, it allowed her and other senior citizens, another chance.

She told the BBC back in 2015 that she wanted to inspire older children who were not attending school to go back saying: "They tell me they are too old," she says, "I tell them, 'Well I am at school and so should you.'