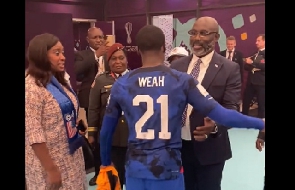 Liberian president George Weah is still in Qatar where he is watching the 2022 FIFA World Cup in Qatar.
He was in attendance on Tuesday, November 29, when the United States played against Iran in the final Group B fixture.

Weah's interest at the games is with matches involving the United States because his son Timothy plays for the US Men's National Team, USMNT.

The UNMNT shared a post-match video that showed young Weah hugging his parents and some aides in the stadium lobby.

They are seen exchanging pleasantries with the player who was on target in the first match of the group against Wales.

Timothy's goal was, however, canceled out by a Gareth Bale strike. Their win against Iran is what secured them qualification to the round-of-16 stage after losing their second game to England.
Weah said he was a proud father when he met with the son over dinner after the Wales game.

Weah extended his stay in Qatar after it was originally communicated to Parliament that he will spend only nine days.

There is an uproar back home over his decision to stay away for this long at a tournament where Liberia is not participating.

Watch a video of the Weahs after the game:


What a moment for the Weah family ❤️???? pic.twitter.com/lSqq7WgxX4

— U.S. Men's National Soccer Team (@USMNT) November 29, 2022