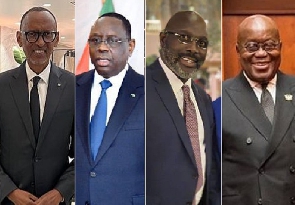 It is a global football season yet only 32 teams from across the world are in Qatar for the 2022 World Cup.
The spotlight is on the various teams – players, technical staff – the officiating department – referees, assistants, Video Assistant Referees, technical analysts – as well as the media covering the event.

Then there are the fans who are on ground or enjoying the tournament online. In all of this, there is also the weight that presidential diplomacy plays in the games.

Over twenty world leaders converged in the Al Bayt Stadium where the opening ceremony and first match between hosts Qatar and Ecuador took place, the hosts losing by a historic two – nil scoreline.

In this article, GhanaWeb looks at the African presidents who have had one reason or the other to be in Qatar specifically because of the tournament.

The most recent to arrive in Qatar is Nana Addo Dankwa Akufo-Addo of Ghana, who arrived on November 24, 2022 and is expected to meet the Ghana national team, the Black Stars to motivate them before watching their match against Portugal later.

Presidents Paul Kagame of Rwanda and Macky Sall of Senegal were officially invited by the Qatari government to be part of the opening ceremony on November 20.
Whereas Kagame returned to Kigali, Macky Sall stayed on and watched the November 21 game between Senegal and the Netherlands, which the African champions lost after conceding two late goals in the cagey encounter.

President George Manneh Weah of Liberia, had announced his trip to Qatar weeks ahead. He informed the Senate that he would spend some nine days in Qatar.

He was at the stadium on November 21 to watch the game between the United States and Wales. His interest being to watch his American son in action at a tournament he dreamed of but never had the pleasure of playing in despite being a one-time world best player.

In the said match, Timothy Weah grabbed the first goal for the US with Gareth Bale snatching a late equalizer for the Welsh.

Africa's other reps aside Ghana and Senegal are Cameroon, Tunisia and Morocco.

Which other African president could likely travel to Qatar for the World Cup? GhanaWeb will keep tracking.
PHOTOS: President #Kagame and the First Lady, Jeannette Kagame, on Sunday attended a reception hosted by Qatar leader, Sheikh Tamim Bin Hamad, before joining other leaders for the #WorldCup opening ceremony. pic.twitter.com/voX1v0AvY0

— The New Times (Rwanda) (@NewTimesRwanda) November 21, 2022
Always an honour to greet @Macky_Sall, particularly on the eve of ???????? v ????????. Action takes place tomorrow @ 19:00 ???????? time @ Al Thumama ????. @FIFAWorldCup pic.twitter.com/Tp7gRPyF3N

— Fatma Samoura (@fatma_samoura) November 20, 2022
Just had dinner with my son Timothy Weah. Proud daddy. pic.twitter.com/Jrx2vT3iAa

— George Weah (@GeorgeWeahOff) November 22, 2022
SARA