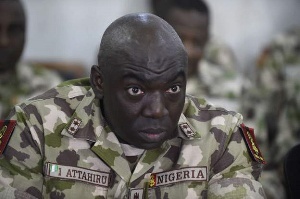 Nigeria's army chief has died in a helicopter accident in the north central Kaduna State, multiple local media portals have reported.
Lt. Gen. Ibrahim Attahiru was appointed to the top post months back after President Muhammadu Buhari changed the entire top brass of the military hierarchy.

Government has yet to confirm the news even though the Air Force confirmed that an accident incolving one of its aircrafts had occured and promised details.

"An air crash involving a @NigAirForce aircraft occurred this evening near the Kaduna International Airport. The immediate cause of the crash is still being ascertained. More details to follow soon," a May 21, 2021 tweet from its Director of Public Relations, Edward Gabkwet, read.

Below are some facts about him.

1. Attahiru served as a commander of Operation Lafiya Dole, the special military unit formed to deal with insurgents in Northeast Nigeria.
2. Before his latest appointment, he headed the 82 Division of the force.

3. He had the rare opportunity to spearhead the offensive against Boko Haram in the North-East in 2017.

4. Attahiru was sacked in 2017 after attacks characterized by bombings from the terrorists increased.

5. After his sack from the position, Attahiru was replaced with another general, Nicholas Rogers.