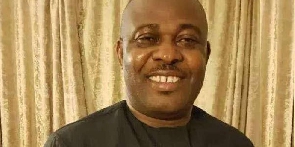 After nine days in prison custody, the former deputy governor of Imo State, Gerald Irona, has finally regained his freedom.
Irona, who was on Thursday last week remanded in Owerri Custodian Centre after police arraigned him on a three-count charge bordering on treason, was freed on Friday.

Spokesperson of the former deputy governor, Walter Duru, who confirmed his release to PUNCH, said that an Abuja Federal High Court after the Imo High Court failed to grant him bail, ordered that Irona be released on bail.

He disclosed that the authorities at Owerri prison had since complied with the court order.

Duru said "Former deputy Governor of Imo State, Gerald Irona is free. His release was ordered by a Federal High Court in FCT, Abuja and the Nigerian Correctional Service had long complied.
"I will issue a statement later today. Good morning and many thanks for your support. Imo must be rebuilt."

The three-count charge preferred against the immediate past deputy governor by the police "reads that you Hon Gerald Irona sometime in January 2020, at Owerri in the Owerri magistrate district, did conspired with others now at large, to commit felony to wit: treason and thereby committed an offence punishable under section 37(2) of the criminal code, cap c 38, law of the federation of Nigeria, 2004, as applicable in Imo state.

"That you Hon Gerald Irona sometime in January 2020, at Owerri in the Owerri magistrate district, did make several utterances to the effect that you will make Imo state ungovernable and immediately afterwards hoodlums levied several attacks on Imo state with intent to intimidate or overawe the governor of Imo state and thereby committed an offence punishable under section 37 of the criminal code, cap, c 38, law of the federation of Nigeria, 2004, as applicable in Imo state.

"That you Hon Gerald Irona on the 15th day of January, 2020, at Owerri in the Owerri magistrate district, do converted to your own use two land cruiser jeep (V8 and V6) and one Toyota Hilux vehicle valued four hundred and Ninety three million naira property of Imo state government thereby committed an offence punishable under section 390 (9) of the criminal code, cap c 38, laws of the federation of Nigeria, 2004, as applicable in Imo state."