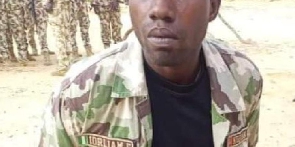 A Nigerian soldier, Iorliam Emmanuel, has been arrested for stealing and selling ammunition to Boko Haram terrorists.
In a viral video, Emmanuel, said to have been attached to the 156 Task Force Battalion, codenamed "Operation Hadin Kai", in Mainok, Borno state was disarmed, searched and found to be carrying ammunition.

The video shows as the ammunition was removed from a piece of clothing strapped around his waist.
His colleagues could be heard saying, "God pass you, 99 days for the thief; so you'll go and give Boko Haram to come and attack us (sic)?"