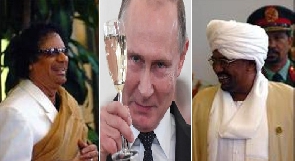 Russian President Vladimir Putin has been slapped with an arrest warrant by the International Criminal Court (ICC) based in the Hague.
The warrant is premised on accusation that Putin has committed the war crime of illegal deportation of at least 100 children from Ukraine, a country his troops invaded over a year ago.

The 70-year-old former military intelligence officer becomes the third sitting president to become the subject of an arrest warrant.

The other two were Africans - Omar Al-Bashir of Sudan and Colonel Muammar Gaddafi of Libya.

The former is currently in jail after a civilian-led mass protest forced hi from office years ago whiles Gaddafi was killed in the 2011 NATO-backed revolution that threw the North African country into chaos.

Implications of arrest warrant

According to a Reuters report, the legal move will obligate the ICC's 123 member states to arrest Putin and transfer him to The Hague for trial if he sets foot on their territory.
Moscow has repeatedly denied accusations that its forces have committed atrocities during its one-year invasion of its neighbour and the Kremlin branded the court decision as "null and void".

Neither Russia nor Ukraine are members of the ICC, although Kyiv granted it jurisdiction to prosecute crimes committed on its territory. The tribunal has no police force of its own and relies on member countries to detain and transfer suspects to The Hague for trial.

While it is unlikely that Putin will end up in court any time soon, the warrant means that he could be arrested and sent to The Hague if travelling to any ICC member states.

Kremlin spokesman Dmitry Peskov said Russia found the very questions raised by the ICC "outrageous and unacceptable".

Asked if Putin now feared travelling to countries that recognised the ICC, Peskov said: "I have nothing to add on this subject. That's all we want to say."