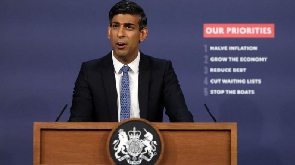 Rishi Sunak has denied "tinkering" with the government's Rwanda plan after his sacked former home secretary accused him of failing to take the radical action needed to implement the policy.
The PM defended his plan to introduce emergency laws and a new treaty with Rwanda to save the plan after the Supreme Court ruled it was unlawful.

Mr Sunak said he would "take on" anyone who stood in the way of the new laws.

Earlier Suella Braverman described his approach as "magical thinking".

Writing in the Telegraph, Ms Braverman said "tinkering with a failed plan" would not achieve the government's aims.

In its ruling on the government's scheme to fly some asylum seekers to Rwanda, the Supreme Court said there were "substantial grounds" to believe that some of those deported to the country could be sent back to places where they would be unsafe.

After the judgement, Mr Sunak announced he would bring in emergency legislation to certify that Rwanda was a "safe" country, despite the court's decision.
The prime minister also said he would sign a new treaty with Rwanda so that the first flights could begin in the spring.

Speaking to broadcasters during a visit to a school in Bolsover in Derbyshire, Mr Sunak insisted he would "work night and day" to ensure domestic courts could not "systemically" block flights to the East African nation.

Asked whether his rescue plan amounted to "tinkering" he said: "No.

"We can pass these laws in Parliament that will give us the powers and the tools we need.

"Then we can get the flights off, and whether it's the House of Lords or the Labour Party standing in our way, I will take them on because I want to get this thing done and I want to stop the boats."

Speaking in Aberdeenshire, Labour leader Sir Keir Starmer called on the prime minister to "stop pursuing expensive gimmicks".
He said a "serious solution" was needed to a "very serious problem", adding that Labour would work with the UK's international partners on "smashing the criminal gangs... getting people across the Channel".

Mrs Braverman, who was sacked as home secretary on Monday, argued that Mr Sunak's plan would not solve "the fundamental issue", that the UK's highest court had found Rwanda unsafe for deporting asylum seekers.

"Any new treaty would still require going back through the courts, a process that would likely take at least another year" and "could culminate in yet another defeat", she said, meaning that no asylum seekers were flown to Rwanda before the next general election.

An election is expected to be held next year and one must take place by January 2025.

Instead, Ms Braverman called for ministers to ignore human rights laws and other international obligations in their "entirety" on this issue, and to prevent those being sent to Rwanda from being able to mount legal challenges.

Former senior cabinet minister Damian Green called Mrs Braverman's suggestion the "most unconservative proposal I've ever heard".
A former First Secretary of State under Theresa May, Mr Green told BBC Radio 4's Today programme that overriding legal constraints was the behaviour of "dictators" like Chinese leader Xi Jinping and Russian President Vladimir Putin.

But another former cabinet minister, Sir Simon Clarke, said Parliament was "entitled in extremis to say certain sections of the law are disapplied".

The Rwanda policy is central to Mr Sunak's plan to stop asylum seekers crossing the English Channel in small boats - one of his key pledges - as it is designed to deter people from making the dangerous journey.

Any new legislation is expected to face strong opposition in the House of Lords, which contains several current and former Supreme Court judges. It would also be likely to face legal challenges in the courts.

'Black is white'

Sir David Normington, former Home Office permanent secretary, told Today that Mrs Braverman was "right in one way" - that getting a working Rwanda policy "would be very difficult".
"We could pull out of all conventions, but that would be a very bad idea," he said, adding that it would always come down to a British court deciding whether Rwanda was safe.

"The courts say it is not a safe country. You can't say black is white."

Asked if international law was "outdated", Sir David said that "at the core" international agreements were written to protect the vulnerable.

"What is true is that the rights of people to not be tortured never goes out of date."