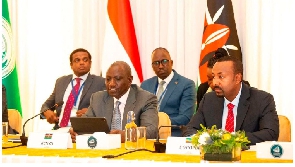 Kenya's President William Ruto is receiving a fair rating on his first year in office as far as regional integration is concerned, even though analysts point to domestic economic woes as a potential banana skin.
Since he was sworn into office on September 13 last year, Ruto has met all leaders in the wider eastern Africa. It fulfils a tradition set by his predecessors who also valued good neighbourliness and regional stability as an anchor point.

But while his charm offensive has also endeared him to the Western leaders, his tongue has created enemies back home and beyond.

His role in the Sudanese peace effort has been the notorious bump after the Sudan Armed Forces, one of the warring factions in Sudan questioned his sincerity and neutrality on the matter.

In April 2023, Ruto offered to mediate between warring sides in Sudan but Sudan's military government under Abdel Fattah al-Burhan rejected his offer. The beef is that Burhan thinks Ruto is an old pal of his rival, Mohamed Hamdan Daglo, Burhan's former deputy and now leader of the rival rebel group Rapid Support Forces (RSF).

Khartoum hasn't provided proof yet, but has stuck on that point for the past three months, stalling any Ruto-led peace bids under the Intergovernmental Authority on Development (Igad).

Dr Ruto's year in office has seen him display loyalty to his friends at home and abroad, even though it has raised controversy in some quarters. His friends have come from places such as Sudan, Chad, Congo-Brazzaville and Sierra Leone.

"From his image perspective he is trying to hack an image of a Pan-African if you look from the optics, his Kaunda suits outfits, I think he has appeared to project himself as a Pan-Africanist. And remember the comments he has made on regional trade on how we need to trade in local currencies and increase intra trade," said Ken Gichinga, chief economist at Mentoria Economics.
Sudan aside

"The posture has been for pan-African trade but the question one would ask is if the policies on taxation have complemented that. There is always what we call the narrative as opposed to the production side of things."

President Ruto's Cabinet Secretary for EAC Affairs Rebecca Miano says her boss has been consistent on integration and that the issue of Sudan should not be used against him.

"The president is sending a very strong message that he supports the integration," Ms Miano told The EastAfrican on Thursday.

"I think he is the only president over the past one year that visited each and every country of East Africa. Within the EAC, President Ruto has played a major role in expansion plans for the regional bloc by continued support to peace efforts in Somalia, Ethiopia and in the Democratic Republic of Congo, insisting regional peace and stability is key to Kenya's own stability," she said.

Ruto became the first Kenyan President to visit Asmara, Eritrea, pushing for the re-admission of Eritrea back into Igad. Asmara had imposed a suspension on itself, protesting against Ethiopia's alleged use of Igad to punish Eritrea. Ethiopia was then under Meles Zenawi when Eritrea under Isaias Afwerki stopped attending Igad meetings.

Now the two countries have warmer ties.
Miano, downplayed the issue of Sudan saying it was not a member of the EAC and his pro-peace efforts should be applauded instead of being frowned upon.

"Apart from promoting and deepening the integration, I think he is sending a message that Kenya is ready to take leadership in terms of policy and directing of the integration. That is why you see even the process of negotiating with Somalia to join the Community, that agenda in the last EAC summit was proposed by our president and the status of the EAC Regional Force. These efforts show his intention and focus on the EAC integration process."

Ruto sustained bits of his predecessors' policies, however. In November 2022, he sent 900 troops to the Democratic Republic of the Congo to join a regional force tasked with trying to calm deadly tensions fuelled by armed groups. The discussions had begun during Uhuru Kenyatta's regime.

He recently hosted the EAC extraordinary summit to get an update of the peace process in the DRC where the mandate of the EAC Regional Force was extended for three months following a decision by the UN to withdraw the Monusco forces by year-end.

Dr Ruto has raised a profile as dependable ally to Western nations, taking a strong stand against Russia's war in Ukraine and being openly critical of Vladimir Putin's withdrawal from a grain deal that let Ukrainian grain pass through the Black Sea, known as the Black Sea Grain Initiative. During the Uhuru Kenyatta days, when Kenya served on the UN Security Council, Kenya criticised the war but abstained on votes to reprimand Russia.

Under Ruto, Kenya has offered to dispatch police officers to Haiti to help fight escalating gang warfare. The US will be paying the cost.

On the international trade scene, President Ruto is pursuing a trade deal with the US after signing others with both the United Kingdom and the European Union.
In June this year, Kenya signed the Economic Partnership Agreement (EPA) with the EU, which aims to liberalise trade between the two parties, notably by offering Kenyan products duty-free access to the European market.

In return, Nairobi will gradually open its market to a greater number of European products.

However, the deal came under criticism from a section of civil society which argued that it flies against the African Continental Free Trade Area agreement ideals.

"Together with other relevant actors, we continue to call for urgent need to rethink the EPAs in order to make them address Africa's longstanding challenges and aspirations for structural transformation, especially in line with the AfCFTA," said Jane Nalunga Executive Director, the Southern and Eastern Africa Trade Information and Negotiations Institute.

She also argues that the negotiations for an EPA began before the admission of two EAC partner states namely South Sudan and the DRC and therefore Kenya should have not gone ahead to sign it without the input of her two new brothers.

Even though President Ruto has played a major role in expansion plans for the regional bloc, his economic policies back home have come under scrutiny from the EAC region.

There are those who argue that Kenya's tax regime is not conducive for business within the EAC.
Ruto in July signed into law a finance bill expected to generate more than $2.1 billion for the government's depleted coffers.

"If you look at changes in average retail prices of selected commodities in the last one year as captured in the Kenya National Bureau of Statistics, this will tell you that our economy is not on the right track as some people want us to believe," said Ndiritu Mureithi, an economist and former Governor Laikipia County.

The Kenya Association of Manufacturers last week moved to court to block sections of the Finance Act 2023 especially on the exports and investment levy, which kicked in on September 1.