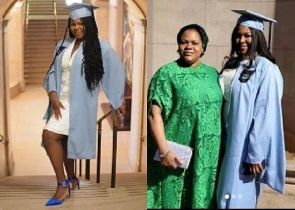 Promise Joshua, the daughter of late TB Joshua has completed her Master's degree in the United States and has been showered with compliments.
Renowned magazine publisher and former presidential candidate, Dele Momodu shared the news and pictures from Promise's graduation ceremony on his Instagram page.

Dele Momodu revealed that Promise Joshua received a Master of Public Administration (MPA) from Columbia University in New York, USA.

According to reports, TB Joshua's daughter finished with a 4.08 GPA, for which she is grateful.

Many social media users congratulated the young lady and also gushed over how she has grown to resemble her father, TB Joshua.

Check out some reactions below:
Bctbookstore: "This is a replica of Prophet TB Joshua. Fine Babe, huge congratulations. Well done. We are proud of you at home."

Sammie_shina_peters: "Congratulations, more wins iJmn. She resembles her father. May his soul rest in peace."

Pappyondoman01: "The good that men do lives after them. Prophet was a good man and we are seeing the result now, all he said has come to pass. Congrats lady"

Ogundipiqueen: "I can see her Father in her! God bless you, and thanks for Making your parents proud. Keep the fire burning my Lady."

Halima_dakare:"Waoh she looks like her daddy. Congratulations dear"
Ronkemakinde: "Congratulations darling God is with you in Jesus name amen. Emmanuel"

Check Dele Momdu's post below