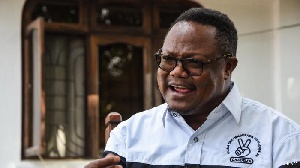 Following the lifting of the ban on political rallies in Tanzania, Tanzania's former presidential candidate, Tundu Lissu, is expected to return to his home country from exile in Belgium.
He is to return to the country on Wednesday, after which he will address supporters later in the afternoon, BBC.com reports.

In 2016, former president John Magufuli placed a ban on political rallies.

However, elected politicians were allowed to conduct rallies in their constituencies.

Mr Lissu spent the majority of his years in exile after being shot 16 times in the country's capital, Dodoma, during an assassination attempt.
He then returned for a few months in 2020 to challenge Mr. Magufuli in a presidential election where he only secured 13% of the votes.

His Chadema party rejected the outcome over claims of widespread irregularities.

NYA