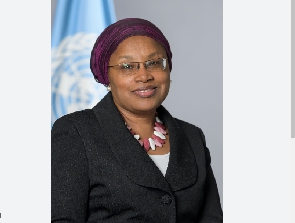 United Nations Special Adviser on the Prevention of Genocide Alice Wairimu Nderitu says she is "extremely concerned" about allegations of mass killings of displaced people in Darfur as the fighting between the Sudanese Armed Forces (SAF) and the Rapid Support Forces (RSF) escalates.
Ms Nderitu cited refugee camps in Ardamata and Geneina, where more than 800 people were reportedly killed and 8,000 others fled to neighbouring Chad.

The numbers could be much higher due to reports of RSF blocking displaced civilians from crossing into that country, Ms Nderitu said in a statement.

She said she was "highly alarmed" at the renewed escalation of fighting between the SAF and the RSF and their affiliated militias in Darfur, particularly in Nyala, Geneina and Zalingei. There are reports of mass graves believed to contain the remains of members of the ethnic Masalit tribe in the area.
"The most recent developments in Ardamata and West Darfur constitute one more step in a cycle of violence that finds no end. Violence since the initiation of hostilities by the SAF and the RSF in April this year has amounted to at least 9,000 people reportedly killed and more than 5.6 million people displaced, including at least 1.2 million fleeing to neighbouring countries," she said.

"There is no stop in the fighting and no stop in the suffering. This horrific level of violence, with all the signs of atrocity crimes being committed is not new in the country and is part of a cyclical process which has lasted for decades. It is essential that the world pays attention and responds. This must not become a forgotten crisis," she added.