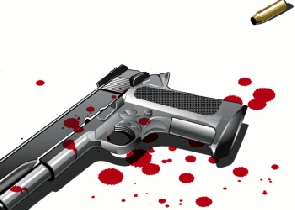 A Ugandan officer on Wednesday, May 24, 2023, shot himself dead after he fired multiple times into his boss' residence.
The incident occurred at the Makokoto police post in Kassanda district in central Uganda.

The Ugandan police gave the name of the deceased officer via a tweet as No.1037 PC Kitiyo Alex, a 47-year-old resident of Makokoto Trading Centre.

The police also added that at about 5:00 am on Wednesday, Police Constable Kitiyo woke up and shot several bullets into the room of his supervisor John Kakooza without a word, then he later returned to his room sat on his bed and shot himself dead.

Uganda's news outlet Monitor reports that there have been three cases of shooting in the country involving the police and security personnel in the space of a week.

This has forced the country's Internal Security Organisation to provide officers further training on gun handling, the Monitor reports.
Statement on Kassanda suicide by shooting @KawalaRachael "Territorial police in Kassanda have registered attempted murder and suicide by shooting that occured at

Makokoto police post Makokoto sub county in Kassanda District.

The deceased is No.1037 PC Kitiyo Alex, a 47-year… pic.twitter.com/VDqhvgweVh

— Uganda Police Force (@PoliceUg) May 24, 2023
ABJ/YNA