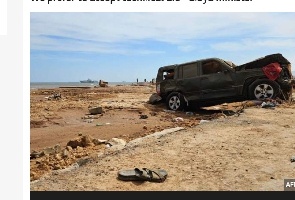 A week after catastrophic floods ravaged Derna, rescue teams are still pulling out dead bodies from ruined buildings and the sea.
The interior minister of the self-proclaimed eastern administration - Essam Abu Zeriba - has told the BBC that while they accept all types of aid, at the moment they prefer "technical aid".

"[We] prefer to have technical aid, that is, search and rescue teams and teams specialising in identifying bodies. Libya is poor in such technical experience," he said.

He thanked countries that were already helping, including Turkey, UAE, Saudi Arabia and neighbouring Egypt.
He said all teams were distributed to areas but noted that this "is just the drop in a sea of ill-fated areas".

"All rescue teams are still working in an attempt to find bodies under the debris. There are also rescue teams working in the sea," he added

Thousands of people are known to have died and many more are still missing.