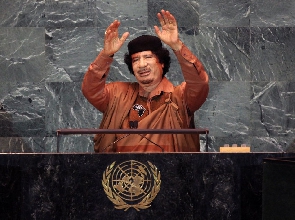 Former American president Donald John Trump's tweet of 2011 has gained traction in Twitter (now X) as a result of recent events in Libya.
The tweet dated August 23, 2011 was about the political events that led to the overthrow of the regime of then leader Muammar Gaddafi.

Trump prophesied that things in Libya were going to degenerate even though he was of the view that Gaddafi had to be removed.

His tweet read: "As bad as Qaddafi was---what comes next in Libya will be worse---just watch."

Many people commenting on the 12 year old tweet are largely agreeing with Trump's prophecy but defending Gaddafi.

Muammar Muhammad Abu Minyar al-Gaddafi was a Libyan leader who ruled Libya from 1969 until his assassination in 2011 by rebel forces.
The rebels were backed by a multi-state NATO-led coalition which began a military intervention in Libya to implement United Nations Security Council Resolution 1973, in response to events during the 2011 Libyan civil war.

The action started on 19 March 2011, Gaddafi was killed on October 20 but Libya has since then been split among rival governments.

The US president at the time Barack Obama admitted that the invasion at the time was a mistake. Obama has come under critique after he recently shared a fundraiser for Libya in the wake of the deadly, destructive Derna floods.

See Trump's tweet below:


As bad as Qaddafi was---what comes next in Libya will be worse---just watch.

— Donald J. Trump (@realDonaldTrump) August 23, 2011
Obama is the worst president ever existed and pilot the affair of America and their global friends, him destroyed every fiber of trust from other countries just to satisfy his ego of being the first black president and the destroyer of Africa continent. @BarackObama brought https://t.co/gTEKllJuIt

— Edokpayi (@AM_Voicec) September 17, 2023
Your excellency @realDonaldTrump with all due respect,was really former Libya President Hon.Muhammad Qaddafi BAD as it's alleged by Western & European countries? I beg to differ with you. I perceive the issue was more political & fear of African Independency then security risk? https://t.co/LimMwfVgEX

— Moses Ndichu Njenga (@ndichu_njenga) September 17, 2023
Africans, just so we're clear, Gaddafi was not bad &Donald Trump is NOT our ally!

In 2016, Trump pledged to stop 'US endless wars'
He was portrayed as anti-bloodthirsty foreign policy/
anti-war president

However, the reality of his presidency does not fit with that rosy picture https://t.co/JYiUkTfcjW

— Ruzeki (@ruzekitweets) September 17, 2023