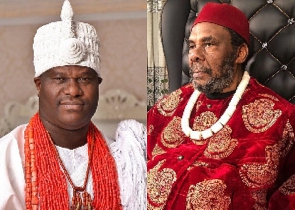 Veteran Nollywood actor Pete Edochie has left tongues wagging after a video of him meeting the Ooni of Ife, Oba Adeyeye Enitan Ogunwusi emerged on social media.
The veteran actor is seen shaking Ooni's hand in a viral video, and this gesture has drawn conflicting emotions.

Many people think the senior actor should have bowed before the king instead of shaking his hand.

While many people think that Pete should have bowed before the Ooni, others have expressed the opinion that since Pete Edochie is a well-known figure who is well respected, there is no necessity for him to do so.

Check out some comments below:

Alausa_O: "There is absolutely nothing wrong in this video. Two people from two different cultures. You done expect Chief Peter Edochie to prostrate for the Ooni. If both of them are Yoruba now, that's a different case. Every man must uphold his culture."

ugwu_nwobodo: "
Are we sure that Ooni do not have Igbo blood running in his veins? Imagine him being Igbonized here greeting Igbo chiefs in Igbo style in what apparently looks like a Yoruba function. Ooni is truly detribalised!"

Watch the video below

jonze_boy: "Ooni has wisdom which is the first value in the Yoruba system. Pete Edochie is an old man and also a Chief, and as an Igbo man the Ooni doesn't expect him to bow down so instead it has to be handshake. That's the only way that could have turned out."

EngDammyLtd: "That's respect. Despite the oni is a king, he know edoche is like a father to him and that is say's A lot about Yoruba culture if not edulchi will prostrate for him"

Yemihazan: "Pete Edochie next time he comes across Ooni of ife after reading Twitter dragging from people with empty opinions"

Oistien_VanMowo: "He greeted Ooni the way Chiefs greet. All those people ranting na them sabi o"
Chi_Mekus: "Pete edochie is not his subject. Ooni is a king only to his people."

jagabanolu: "Ooni Ife in Yoruba land is a first class monarch and Edochie is not one not even by law... its like saying Edochie is on the same rank as Obi of Onitsha! Yes Edochie is a great actor and has accomplished much doesn't mean he is on the same level as the Ooni, even with his age."

Drwhales_: "How did you expect the Ooni to be greeted in this setting? Some of you are funny. Two mature men quickly understood the settings, their different cultures and still were able to do the greetings very respectfully and agreeably. What else should they have done ?"

See some reactions here


The Ooni of Ife ???? Chief Pete Edochie. ???? pic.twitter.com/15u4EBKzVz

— Nwoke Agulu (Anyafurugo ????) (@OkoyeCardinal) May 24, 2023