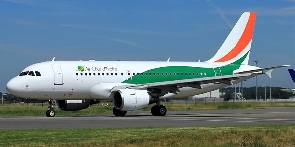 Video telephony software Zoom, which is the go-to app for business meetings online in the light of measures instituted by various governments to control the spread of the COVID-19, has now become a major competitor to airlines.
Speaking exclusively with AviationGhana, the Country Manager of Air Cote D'Ivoire in Ghana, Micheline Yahot, said: "COVID-19 has made the whole year a low season for us. We are in a low season because of COVID-19; we are in a lower season due to the Ramadan; and we are in a lower season due to the adopting of technology such as Zoom for business.

"Zoom is now our new competitor. Also, most international companies have a ban on travelling for their staff, the UN is also yet to resume their trips."

Zoom is a video telephony proprietary software program developed by Zoom Video Communications. The free plan provides a video chatting service that allows up to 100 concurrent participants, with a 40-minute time restriction.

The software really caught-on at the height of the current pandemic in March 2019.

Given the competition from Zoom and the increasing cost of travel for passengers due to the cost of pre-departure PCR tests and cost of antigen test upon arrival in most countries, airlines have had to reduce fares on certain routes to stimulate demand and help bring down the cost of travel.
For instance, the Abidjan-based airline is offering Ghanaian travelers discounts of up to 40 percent on selected routes.

Ghanaian passengers can enjoy discounts of up to 40% on Conakry, Dakar, Niamey and Abidjan routes.

Ms. Yahot told AviationGhana: "The COVID-19 has impacted some markets more than others. Secondly the pandemic is not making trips fun anymore in terms of the cost of PCR tests travelers have to borne. Now for someone to travel he or she has to do a test before leaving and when coming back they need to do another test.

"These tests increase the cost of travel by $300 or $400 in our region. So if you take this $400, which wasn't part of the travel cost pre-COVID-19, you would see that a normal ticket which is about $450 becomes $850 just like that."