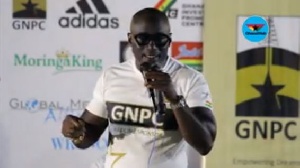 Cape Coast is set to host the Central and Western regions GNPC Ghana's Fastest Human 100m heat this Saturday, this writer has gathered.
Event founder, Reks Brobby has said ahead of the event that preparations are afoot to deliver a masterpiece athletics meet.

Athletes will compete in U-10, U-15, 18 and seniors' categories for prizes from sponsors like GNPC, Adidas, Indomie Instant Noodles, Moringa King, Wrenco Printing, Krriate Lync.

Brobby said "We are ready for Saturday's event, my men on the grounds have told me the venue and the people of Cape can't wait for the event.
"We had a successful event in Tamale; we identified great talents and we hoping to do same in Cape. We gave GAA electronic timer to ensure efficiency in our timing."

It is the sixth edition of a seven-year athletics initiative aimed at reviving sprints in colleges with GNPC as headline sponsor.