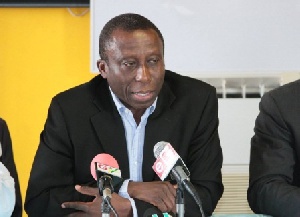 The President of the Ghana Athletics Association (GAA), Professor Francis Dodoo, has been appointed as Chairman of the new Governance Commission of World Athletics.
The decision to appoint the former President of the Ghana Olympic Committee (GOC) was taken at the sport's world governing body's Council Meeting in Monaco on March 11-12.

Prof. Dodoo, who is also a Pro-Vice-Chancellor of the University of Ghana, will chair the 12-member Commission.

The members include personalities from the athletics world such as Holland's Sylvia Barlag, Spain's Carlota Castrejana, Germany's Dagmar Freitag, Brazil's Helio Gesta de Melo, Canada's Inaki Gomez, Australia's David Grace, China's Leung Hong Shun, Kenya's Jinaro Kibet, Estonia's Sirje Lippe, Virgin Islands' Ronald Russell and USA's Norman Wain.

A statement issued by GAA in communicating the decision said Prof Dodoo, the All-Africa Games record holder in Triple Jump, comes to the position with a wealth of international governance experience, having served on erstwhile IAAF's Values Commission, the Commonwealth Games Federations' Governance and Integrity Commission and World Anti-Doping Agency's Committee for Athletes.
Aside his post at University of Ghana, Prof Dodoo also chairs the international governing board of the African Institute for Development Policy (AFIDEP), based in Nairobi, Kenya.

He is a four-time Olympian. He held Ghana's Triple Jump record for 11 years.

He won the National Sportsman of the Year in 1987, when he set the record, and was later honoured with a Grand Medal by the state.