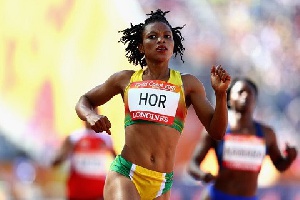 Ghana's shining star Hor Halutie has said she is proud of herself even though she failed to clinch a medal in the women's 100m final in the ongoing 21st edition of the Commonwealth Games.
Halutie crossed the finished line making a time of 11.54s placing 8th position.

"I am disappointed that I couldn't win any medal in this category, you can see that most of my competitors have much experienced than me.
"I strongly believe that in my next international competition I will perform well and win medal for Ghana, Halutie added.

With the twelve competitions that Ghana entered in the games, they are yet to win a single medal.