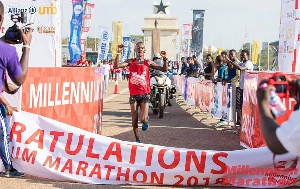 Sun, 23 Sep 2018 Source: Sammy Heywood Okine
Ismael Arthur and renown long-distance runner, Elizabeth Azure from the Upper East Region emerged winners of the 21-kilometre races in the male and female categories respectively at the 2018 Millennium Marathon which came off at the Black Star Square in Accra on Saturday.
In the men's 21 kilometres race, Arthur finished in 1:08:09 and was followed up by Kudanu John who did 1:08:53 whiles former champion, Malik Yakubu placed third in 1:08:58.

The Upper East Region proved their mettle as a 14-year-old distant runner, Ramatu Abdallah and Judith Bayele came 2nd and 3rd respectively to Elizabeth Azure.

Both Arthur and Azure went home with a cash prize of $2, 500 and hamper from Unilever. The second and third placers got $1,500 and $1,000 respectively.

Kakonissa Midoouna from Togo was awarded with $500 after winning the 5km male race. Ghanaian wheelchair para-athletes added glamour to the event as they raced to the finish line.
Apiatu Issaka was the surprise big winner on the day as she won the Special Raffle and drove home the Nissan SUV car from Japan Motors.

The 4th edition of the Millennium Marathon was well participated by athletes from 22 different countries.

Ambassador Ashim Morton, CEO of the Millennium Marathon Sports Ltd announced that Arthur and Azure will represent Ghana at the Dubai International Marathon in 2019 by courtesy of Emirates Airlines.

The Millennium Marathon Ambassadors and celebrities like Azumah Nelson, Nana Ama McBrown, Nana Aba Anamoah Lil Wayne, Captain Planet, Bella Mundi, Wael Hakim of Elite Sports, Juliet Gyamfi of Beautiful Beneath, Salem Kalmoni of Japan Motors , Divine Asiedu, Anita Punjabi, Roddy Morgan, Miriam Ismail, KOD, Alan Beales were among the huge crowd who graced the successful event.
Source: Sammy Heywood Okine