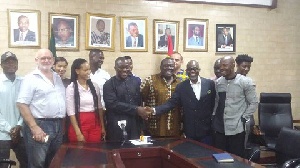 Sat, 18 Aug 2018 Source: --
Mayor of the Accra Metropolitan Assembly (AMA), Hon. Mohammed Adjei Sowah has said, the country can use the upcoming Millennium Marathon to project the capital city, Accra.
According to him, sports remain a strong marketing tool and such events like the Millennium Marathon which would have people from across the world is a great platform to showcase what Accra has to offer and the country at large.

He was speaking on Friday when organizers, sponsors and ambassadors of the Millennium Marathon 2018 paid a courtesy call on him to invite and explain to the Mayor activities lined up ahead of the September 22 event.

"The Millennium Marathon is a very big competition and we can leverage on it to promote the capital city Accra. Ghana's culture and hospitality as well as our sporting exploits could be displayed on the day," he stated.

He added that, Ghanaian athletes must also make sure they give other nationals a run for their money as the country is abound with many talents.

"Ghana has great talents in athletics and must do well in the competition. All Ghanaians must also come on board to participate in the non-competitive race as part of efforts to keep fit," he stated.
He promised organizers of his presence and support for the event adding that, "this is a laudable event that must be supported by all, I will be there to participate in the 5km" he assured

Chief Executive Officer (CEO) of the Millennium Marathon, Ambassador Ashim Morton promised the Mayor of an exciting event which would ultimately project the city of Accra and the country, Ghana at large.

"This year's event would host over 10,000 athletes from across the country and many sporting icons including Stephen Appiah, John Paintsil, and entertains like Tic Tac have accepted to be Ambassadors of the event," he stated.

He added that, the face of the event, Mariam Ismail from Tanzania has also been in the country for the past couple of months, helping to project the competition and the country at large.

He also encouraged Ghanaians to exercise regularly in other to stay healthy as it would help prevent certain diseases caused by lack of exercise.
The CEO also expressed appreciation to both corporate and individuals who have supported the event so far and also called on Ghanaians to register for both the competitive and non-competitive event which has a car at stake.

Musician Tic Tac said he is associating with the Millennium Marathon because it is a good venture and boasts tourism and business. "You will see me walking, jogging and running, I want many artistes to be part of the event which also promotes healthy living" he said.

Mr. Wael H. Hakim founder and CEO of Elite Sports and Zen Gardens, one of the sponsors of the Millennium Marathon said the international event has put Ghana on the map of great events and urged more people to register to participate as there are very attractive prizes to be won
Source: --