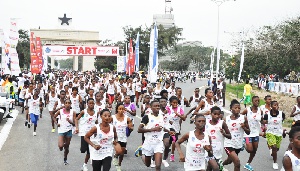 Thu, 28 Jun 2018 Source: Sammy Heywood Okine
The Millennium Marathon Sports Ltd is organizing the !0 Km Pre – Millennium Marathon 2018 on Saturday June 30 from its office at Nima through some principal streets in Accra.
According to Ambassador Ashim Morton, the chief organizer of the Millennium Marathon, this year's event has been designed to encourage more people to participate, and that is why they are putting at stake a brand new Nissan Kicks SUV for any one who walks, jogs or run to finish the race, and is present at the Independence Square on September 22, 2018.

He said as another way of motivating more runners to register on time, they have put in place fortnight raffle draws conducted by the National Lotteries Authority (NLA) to offer enticing prizes like laptops, printers, UPS, flat screen TVs, fridges, microwaves, sports wear, sports shoes and Garmin watches.

He hinted that to encourage more people to do athletics and long distance running, they are bringing two top athletes from East Africa to come and participate.
Already, Mariam Ismail from Tanzania is in Ghana and has been appointed as the Face of the 2018 Millennium Marathon. She told Yours Truly, she is very much excited to be in Ghana, and proud to be the Face of the Big Millennium Marathon 2018.

Samuel Mungara from Kenya was expected to arrive on Wednesday, but missed his flight and he will come on Thursday. It would be recalled that world champion marathoner, Haile Gabrselassie from Ethiopia was in Ghana in 2015 for the maiden Millennium Marathon

Keep Fit Clubs, schools, churches and individuals are invited for the Pre – Marathon on Saturday June 30, 2018. The event starts and ends at the Millennium Marathon office, opposite Frankies Hotel at Nima. The event is sponsored by Verna Mineral Water, Run Energy Drink, Elite Sports, Blue Skies, Papaye, Japan Motors, Alliance Insurance, Can-West, Unilever and others
Source: Sammy Heywood Okine