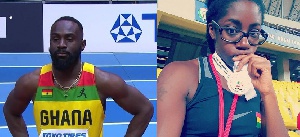 Thu, 15 Mar 2018 Source: Sammy Heywood Okine
Europe based Ghanaian sprinters Sean Sarfo Antwi and Gemma Acheampong are raring to run at the 2018 Commonwealth Games in Gold Coast, Australia.
Safo-Antwi who made the final of the men's 60metre event (at the just-ended IAAF Indoor Athletics Championships) finishing in seventh place took to his social media handles to reveal that he has been selected to represent Team Ghana in the 100metre and 4x100 metre races at the Games between April 4, 2018 – April 15, 2018.

He wrote: "Time To Represent!!! I Have Been Selected To Represent Team Ghana In The 100m & 4x100m At The Commonwealth Games In Australia! Let Go Champ!! Next Stop Australia (Gold Coast)".

His teammate, Acheampong also shared a touching anecdote revealing how her appearance at the Commonwealth Games in Glasgow, Scotland changed her life forever.

Acheampong, who has similarly been selected by Team Ghana for the 100 meters and 4x100 races in Australia said competing in Glasgow four years ago helped her rediscover her love for track.

"Four years ago I made the momentous decision to join Team Ghana at The Commonwealth Games in Glasgow and change the direction of my life forever. It was there I rediscovered my love for track and found a future running after my dreams," the US-born sprinter wrote on Facebook.

She added: "I'm proud to finally announce I've been selected for my second Commonwealth Games with Team Ghana! I'll be competing in the 100m and 4x100m in the Gold Coast 2018 Commonwealth Games (Australia). Make sure to stay tuned here and on my blog to get immersed in the Commonwealth experience and see why I decided track was the path I wanted to run on ?".
About Sean Sarfo-Antwi

Sean Safo-Antwi (born 31 January 1990) is a Ghanaian sprinter. He competed for Great Britain before switching allegiance to Ghana in early 2016, a move that was not opposed by the British Federation.

He was due to represent Ghana for the first time at the 2016 World Indoor Championships but was withdrawn at the last minute. In 2016 he represented Ghana in the 100 meters at the 2016 Summer Olympics in Rio de Janeiro, Brazil.

About Gemma Acheampong

Gemma Acheampong (born 13 February 1993 in Chicago, Illinois) is a US-born Ghanaian athlete specializing in the sprinting events.

Acheampong holds the Ghanaian record in the rarely-contested indoor 300 meters event. She represented Ghana in the 4 × 100 meters relay at the 2016 Summer Olympics in Rio de Janeiro, Brazil.
Source: Sammy Heywood Okine