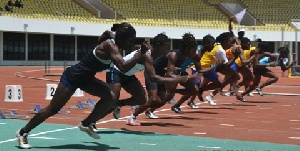 A medical advisor and executive member of the Ghana Athletics Association (GAA), Dr. Marc Dzradosie has revealed to Starr Sports, a growing development where young athletes who participate in school sports tend to the use of banned drug(s) in a bid to drop weight.
According to him, he has encountered some student-athletes acquiring a drug called Furosemide Tablet in efforts to make adjustments in their weight class standings so as to meet a standard set by the Ghana Education Service (GES).

The GES, we understand, currently uses weight instead of age to select athletes for school competitions.

Furosemide Tablet is a heart medication used for removing water from the body. Athletes using the drug without medication stand the chance of developing kidney failure, low blood pressure, dehydration, electrolyte imbalance and hearing loss.

When Starr Sports contacted Emmanuel Domenya, the Director of National Schools Sports Programmes at the Ghana Education Service, he denied knowledge of the alleged practice by young athletes.

But Dr. Marc Dzradosie insists the GES' qualifying standard is what has influenced many young athletes to use the drug.
"Nobody will report to them because they are the ones who have set the rules to use weight instead of the age so we as healthcare professionals, these have come to us.

"We've witnessed students as young as 13 years come to the pharmacy to buy Furosemide which is also called the water pill so it helps remove water from your body," the medical advisor claimed in an interview with Starr Sports.

"It is not a weight loss medication; it is rather a heart medication. It is even a prescription only medication, so for them to even go to the pharmacy to say their coaches have asked them to buy the drug to help reduce weight, then it means the coaches are persuading these innocent students to use the drug in order to meet the GES standard. And you know this drug is even on the World Anti-doping Authority drug banned list," Dr. Dzradosie further explained.

The GAA Executive is admonishing the Education Service to review their methods and abandon what he calls the outdated weigh-in procedure for determining the classes of athletes in school sports.

"Scientifically or in the modern terms, we do not use the weight of children as a criteria for participating in sports especially when it comes to school children, we use age group and worldwide that is what is accepted," Dr. Dzradosie stated.