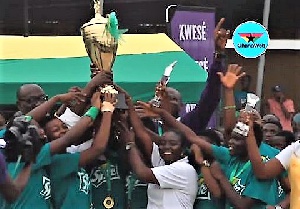 The Draw for this year's Sprite Ball Championship has been rescheduled to Friday, January 4; the much-anticipated event was originally scheduled to take place later today.
However, Basketballghana.com can confirm the event has been moved to Friday at 15:00 GMT with the draw set to be staged live on the competition's official page on Facebook.

Ghana's leading hoops portal understands the new development is a move to get a larger audience to tune into and follow proceedings.

The fate of 20 schools in the first round of Ghana's biggest high school basketball competition will be decided this weekend.

12 schools in the Boys Division have qualified to play in the competition while eight schools have qualified to play in the Girls Division.
in Accra with Kumasi Girls Senior High School and Presbyterian Senior High School (PRESEC-Osu) as defending Girls and Boys Division Champions.

Sprite Ball is organized by leading Ghanaian Sports Firm Rite Sports Limited.

This year's tournament runs from January 11-12 at the El Wak Stadium