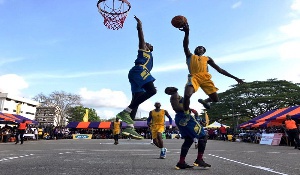 CEO of Rite Sports Promotions, Yaw Sakyi Afari has opined that the biggest sporting discipline in Ghana after football and boxing is basketball.
Over the years there has been a debate with the ranking of sporting disciplines in Ghana. Although the country has been declared by many sports enthusiasts as a football country, there has been tussle on ranking the rest of the sporting disciplines in Ghana.

Boxing which is the only sports to have placed Ghana on the map globally is often regarded as the second most followed sport in Ghana having produced more world champions than any other discipline in the country.

However, basketball seems to have grown through the thorns and has gradually earned a name for itself in the country. The six aside sport which is often played on a hard court has grown in terms of the level of participation and the number of followership.

For nearly a decade now, Rite Sports Promotions have been at the forefront of championing the cause of basketball in the country. The company has consistently held two of its flagship events in the country; Sprite Championship and UPAC Basketball Championship. Both events, despite having a different set of audience in terms of age, have a large number of following.

Speaking in an exclusive interview with Ghanaweb, the CEO of Rite Sports Promotions, Yaw Sakyi Afari disclosed that although basketball is competing with some of the top sports disciplines in Ghana, he believes the sport can only be rated behind football and boxing.

"Basketball is definitely not number one but what I do know in terms of participation and conversation in the media, I think I will place basketball either number 2 if not number 3 because boxing is an old sport that has more visibility in Ghana. If basketball is not ahead of boxing, then next to boxing is basketball. Football is defiantly the number one sport in Ghana no disrespect to that," Yaw Sakyi said.
Although some communities in Ghana have been able to establish their own basketball leagues, much cannot be said about the National Basketball Team. Ghana has not participated in any national tournament for a long time.



The recent trophy won by a Ghanaian team was in 2016 when the University of Ghana won the All Africa University Games in Johannesburg, South Africa.

Yaw Sakyi believes that with a little push from the government, Ghana's National Basketball Team will do exploits due to the enormous talents in the country.