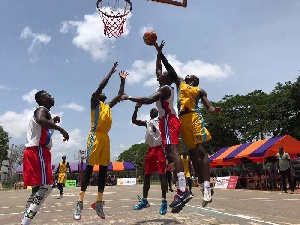 The opening round of games in the basketball event at the 2019 GHATUSA (Ghana Technical Universities / Polytechnics Sports Association) Games have had some teams really win big.
Day Two of the competition has had defending Men's Basketball Champions and Host Accra Technical University (ATU) beat Bolgatanga Polytechnic 94-8.

The game was played earlier today at ATU's Court and the 2017 Champions delivered a strong message to rivals regarding ATU's title ambitions.

2017 Host Bolgatanga had little to show for their efforts in the game as the more experienced and talented ATU side waltzed through the matchup for the big scoreline.
ATU had struggled to put away Kumasi Technical University (KsTU) in its first game played on Sunday, February 3. ATU won 31-28 and has qualified to the semifinals to be played on Wednesday.

In the Women's Division, KsTU's Female counterparts were not so lucky as they got hammered by Takoradi Technical University (TTU).

KsTU lost 3-41 to TTU and KsTU play Sunyani Technical University (STU) next.