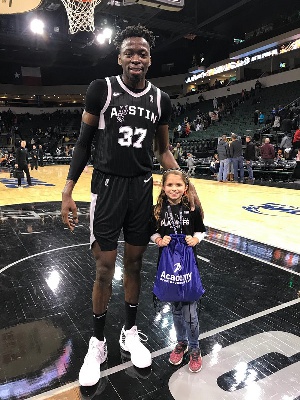 Ghana and Austin Spurs Center Amida Brimah has been named Player of the Game in Austin Spurs latest win in the 2018-2019 NBA Gatorade League season. Brimah won the award after a sterling performance in Spurs 111-109 win over Oklahoma City Blue earlier today in Austin, Texas.
The 6 foot 11 inch defender scored 18 points, gathered nine rebounds, assisted on two shots and blocked three shots from Oklahoma.

His blocks and rebounds tally led all players in the game and helped Austin to its second straight win in the league. Brimah was a rebound shy of recording a double double.

Amida was inactive in two of Austin's three games prior to its matchup against Blue that ended in the wee hours on Saturday.
Brimah led the league in blocks last season and is on pace to repeat as the lead shot blocker in the NBA's development league.

Austin Spurs play Salt Lake City Stars tonight and are expected in Brazil to compete in the FIBA Intercontinental Cup later this month.