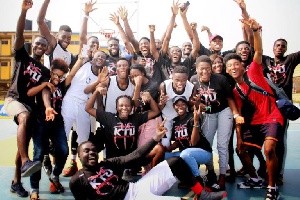 Koforidua Technical University (KTU) is officially the first team to qualify to the 2019 Universities, Polytechnics and Colleges (UPAC) Basketball Championship.
KTU progressed as winner of Zone One on the back of an unbeaten run at the Adu Sarkodee Basketball Court in Pope John Senior High School and Minor Seminary.

Koforidua shocked the field early on in the tournament by beating defending zonal champions All Nations University College 36-27 in the first game of this year's tournament.

The team proceeded to add another big win to its resume following a 41-36 win over Wisconsin International University College.
Beating Wisconsin sealed Koforidua's qualification to the quarterfinals due to be held in Ghana's capital, Accra later next month.

KTU had failed to progress from the zone in 2016, 2017 and 2018 prior to Saturday's brilliant performance. The latest development represents an upward trend in the institution's fortunes in basketball lately.

Its Female Team clinched its first title in basketball at the GHATUSA Games held last month. KTU placed third in the sports competition exclusively for Technical Universities.