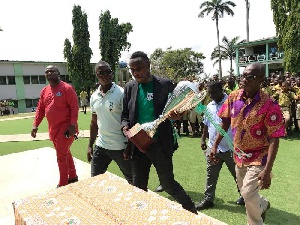 St. John's School, Sekondi is determined to win the 2019 Sprite Ball Trophy for the Western Region according to Headmaster Anthony Jonathan Mensah.
The Saints and Sekondi College are Western Region's representatives in Ghana's biggest high school basketball tournament Boys Division

He made the statement during the Western Regional leg of this year's Sprite Ball Trophy Tour. Next year's competition has 12 schools in the Boys Division and eight schools in the Girls Division and runs from January 11-12 at the Ek Stadium in Accra.

Despite placing third at the December 2016 edition, John's fared poorly in the follow-up competition played earlier this year. Heading to the January competition, St. John's aims to win gold for the region.
"This year is going to be entirely different than the previous years because the boys are determined to bring the cup to the Western Region" Headmaster Mensah stated.

Winning Bronze in 2016 matched St. John's rival Ghana Senior High Technical School's best mark in the competition's history.