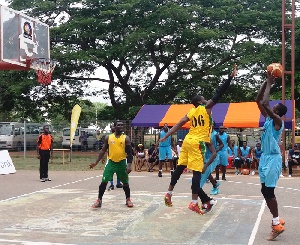 Another loss is all it would take for defending Tema Community Basketball League Champions-Tema Community 4- to be eliminated from the 2018 playoffs.
Should the 2017 Champions fall to bitter rival Tema Community 2 on Sunday October 21, it will be exit the postseason at the first round.

This comes after Community 4 lost 27-33 to Community 2 in the final game of the postseason first round played on October 14 at Tema's Chinese Court.

The three-game series format means a second successive loss ends C4's hopes of retaining its title and becoming the first team in league history to do so.
The loss to Community 2 was played out without proven backcourt duo Aninagyei Osei and Kent Fosu; both players are likely to return on Sunday.

Osei was named Most Valuable Player in 2017 after a dominant postseason run on the back of a consistent regular season performance.

Former Champs Nungua Coldstore, Teshie Rangers and Teshie Vikings won respective games in the first round.