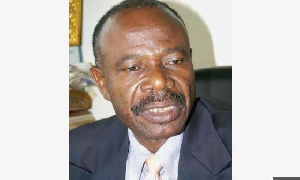 Sun, 5 Nov 2017 Source: NDC Diaspora Union
The National Democratic Congress (NDC) Diaspora Supporters Union, in the past two weeks have taken notice of uncivilized, undiplomatic, divisive and unpatriotic statements made by disgraceful Ghana's High Commissioner to Republic of South Africa, Mr. George Ayisi-Boateng and the failure of President Akufo Addo to stamp his authority as the sovereign president of Republic of Ghana to remove Mr. Ayisi Boateng from office.
Inaction on the part of President Akufo Addo has given credence to his nepotic nature, couple with substandard appointees and government made up with Family, cronies, former girlfriends and political party financiers with stone age mentality.

Nowhere in this 20th century that other citizens are classified at inferior or second-class citizens, not even the apartheid regime in Israel. As Mr. Ayisi Boateng has just made known the secret evil agenda of Akufo Addo's government towards non-NPP members.

1.Henceforth, our members worldwide, from today 6th November 2017, will boycott all government of Ghana Embassy/consular services and activities.
2. We withdraw from all interparty dialoged activist with the NPP worldwide.

3. We thereby urge our members worldwide to stage demonstrations against Akufo Addo anytime he visit a foreign country.

We are not interested to secure NPP party cards before we are recognized as "first -class" Ghanaian citizens. The high level of corruption in government, nepotism and insecurity in Ghana, which Ghanaian will abandon great NDC to join a failing and visionless Akufo Addo Government?
Source: NDC Diaspora Union