xxxxxxxxxxx Sun, 17 Mar 2019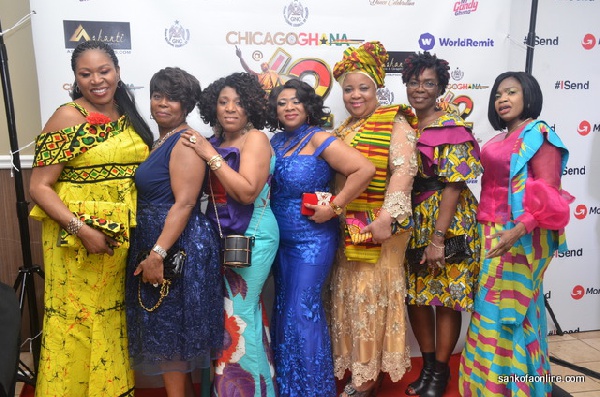 Glendale Heights, IL, March 9, 2019 – As a result of the efforts of the Big Six leaders, Ghana became the first African nation to gain its independence on 6th March 1957.
The official celebrations by the government are marked by parades and speeches. The citizens of Ghana also celebrate the event with parties at the beaches, on the streets and dinner dances across the country.

Ghanaians in the diaspora mark the day with dinner dances mainly the Saturday after the 6th of March each year with pride. Again this year, as in many years, Chicago will not be left out of the celebrations!

Under the auspices of the Ghana National Council (GNC), they converged and celebrated the remarkable history at the Ramada Hotel & Conference Center, Glendale Heights, Illinois. For the first time, the event was sold-out! Those who normally buy tickets at the last minute were to be disappointed this time around as their last-minute efforts to get tickets proved futile.

It appeared Chicagoans were tired of being held "hostage" to the record-shattering colder winter temperatures which kept them indoors for months! Nothing would, therefore, stop them from coming out in their numbers to shake off the boredom and celebrate! Esther Abrokwa, GTVLife producer, came all the way from Ghana to cover the event live! Attendance was estimated to be over 400.

The organizers of the event, the GNC were up to the task. After all, they have been organizing such events since the birth of the council over 30 years ago. Ace emcee, the "legendary", Nana Yaw Marfo gave one of his best performances yet! Prayers and libation opened the thrilling evening, followed by a moving speech by the President of the GNC, Paa Kwasi Sam.


Trumpeter Kofi Cromwell thrilled the crowd with his spellbinding rendition of "Ghana Oseeyie". Live Gyama" performance by the Maraba Dance Ensemble, led by Alhassan Idrissu, a former member of the Ghana National Dance Ensemble, also enthralled the audience.

For the first time, Jollof Rice and plantain featured on the menu. The venue and buffet-style dinner, where individuals must get in line for their food were not ideal for such an elegant event!

The organizers should also consider minimizing the speeches at such events and spread the dancing periods throughout the program! Announcements at such a prominent gathering should be limited to the council's events only!

However, flyers of individuals events could be passed out. Nothing remarkable was displayed at the event to depict the historic nature of Ghana's Independence.


Deserving members of the community were recognized for their services to the community. They include Mr. and Mrs. Berko Akoto of the African Spectrum fame, Kofi Cromwell, Nana Afua Dansoaa, Queen of Fante Benevolent Society, Illiasu Tamanjah, Musah Trywill, Francis Duah, A.C Eddie Quartey and Felicia Apprey-Agyare. Dr. John Awah donated 5 of his book, The American Doctor, to raise funds for non-profit activities.