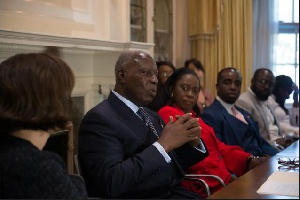 Sun, 5 Nov 2017 Source: Meaghan T'ao
Dr. Barfuor Adjei-Barwuah, the 19th Ambassador of the Republic of Ghana to the United States, visited Boston University to give a talk on Urbanization in Ghana and to discuss possible academic collaborations.
The Ghana Ambassador gave a talk on sustainable development in Ghana. Having previously served as the Ambassador of Ghana to Japan, Dr. Barfuor Adjei-Barwuah, presented his credentials to President Trump this past July.

In his talk, the Ambassador focused on the cities of Accra and Kumasi and the problems they faced in terms of sustainable development. Since the makeup, population, territory and facilities of a city change daily, the sustainable development of a city is hard to plan and carry out, especially in a way that is beneficial and of the least inconvenience to all the parties involved. This makes the definition of the word "sustainable" quite complicated; the shifting metrics of the city must all be considered and planned for.

The City Planning and Urban Affairs Program at Boston University recognizes these challenges cities domestically and abroad are facing, and offers a curriculum based on similar issues in urbanization and sustainability in order for future planners to explore the fastest rate of urbanization, understand the issues and react to challenges.

One example the Ambassador gave was the sense of duty to keep the city presentable and picturesque in Kumasi. Apart from tending to and manicuring front lawns to keep them impeccable, residents were required to paint the roof every four years and the outside of the house every two years.

While these requirements were relatively easy to meet, large-scale changes would not be met with the same amount of compliance and smoothness in carrying out the plan.

Dr. Barfuor Adjei-Barwuah also mentioned that sometimes the government or city council responsible for urban development projects were required to be tough on residents and affected parties in order to transform the city effectively.
However, the question of property rights and individual freedoms is raised when large-scale city Planning projects happen.

While the urban space may benefit from such a change, residents may not agree with the changes and compromise the project. The city cannot afford to go to court over disagreements as the costs are high, may have to force residents to move.

Another possible difficulty Dr. Adjei-Barwuah identified were the slums. Being well-entrenched in the landscape, the cost of renewal in the area would be significantly high. Throughout, the Ambassador maintained that leadership in these projects were very important, and that key traits in a leader included a good conscience and having a well-developed plan on the ground that was ready to put into action.

He concluded that as manufacturing and leisure is tied to economic well being, such urban renewal projects are often very important to a city.

After the talk, Dr. Barfuor Adjei-Barwuah attended a high-level meeting with representatives from MET College and beyond, to discuss collaborations for urban expertise and development between Boston University and a Ghanaian University.

The meeting was attended by Dr. Tanya Zlateva, Dean of Metropolitan College and Extended Education, Dr. Daniel LeClair, Professor and Chair of Applied Social Sciences, Katharine Lusk, Executive Director, Initiative on Cities, Neus Codina, Director, MET International, Dr. Yesim Sungu, Assistant Professor and Director of the Urban Research Clinic, Kwabena Kyei-Aboagye, JD, Massachusetts Urban Environmental Program Manager and Adjunct Professor, Andrea Ciminelli, Program Manager, City Planning and Urban Affairs
Source: Meaghan T'ao