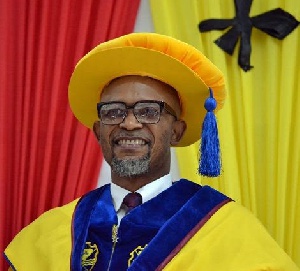 Fri, 26 Oct 2018 Source: Charles Ntiamoah-Mensah
3G Media is honored and proud to host its eighth Annual Awards Night in New York on Saturday, November 10, 2018.
The 3G Awards is the longest run Ghanaian produced award show in America. There is so much excitement as the city of New York awaits renowned media personalities like Kofi Adomah Nwanwani of Kofi TV Fame, Deloris Frimpong Manso (Delay Show), Captain Smart (Adom FM), Kofi Asamoah of KOFAS Media and many others.

The word on the lips of Ghanaians at many gatherings in anticipation of the awards night is "3G Awards Scent no, Agye bebiara" as a number of household names in Ghana are trooping to the "Big Apple", New York City; the city that never sleeps.

One of the biggest surprises of this year's event is the presence of the Managing Director of the Despite Group Media conglomerate, Dr. Fadda Dickson Narh who has carved a niche for himself as the Godfather of Ghana Showbiz 3G Media is proud to honor Dr. Fadda Dickson at the event.

3G Media is a US based Ghanaian owned and operated online news and entertainment media house. Since 2009, the company has organized the annual event; 3G Awards dubbed; "A Night of Heroes" which recognizes the sacrifice and dedication of the leading trailblazers of the greater Ghanaian and Global communities.

According to its Founder and CEO, Mr. Charles Ntiamoah-Mensah aka Mr. CNN, "Every year, 3G Media invites; government officials, celebrities and businessmen/women to visit New York and network with their fellow American business colleagues. The key area is creating an opportunity linking the Ghanaian business community with their US-based counterparts".

This 8th edition will be held on Saturday, November 10th, 2018 starting 9 pm @ The Grand American Ballroom, located on 899 Westchester Ave, Bronx, NY 10459.
This is supported/Endorsed by the Ghana Permanent Mission of New York/, Ghana Consulate of New York, Ghana Chamber of Commerce USA, NCOGA(National Council of Ghanaian Association), New York Mayor's Office; Bronx Country Director; Famod Konneh and others.

Sponsors include; Investigroup, MayJay Property Management, Prestige Tours and Travels, Star Beer, Sultan Drinks, Anokyekrom Restaurant, Malata African Market, NY, and Nyamekye African Market, NJ, AB African Market & AB Africa Fabric Store, TADMI and Boogie Down Nima Productions.

The event Planner/Designer/Decorator of the 3G Awards since 2009 is; Heavenly JIC Inc. Managed by Ike Donkor.

Media houses supporting, Adomonline, Myjoyonline, Ghanaweb, Modernghana, TV3, Peacefmonline.com, Highlife Radio, Vitalghradio, BAK TV, Adinkraradio, Amansanradio, Keymama and Playback Magazine, Afrikan Post

A little Known History Fact

Dr. Fadda Dickson Narh needs no further mention as he is a Ghanaian motivated media personality with experience in media Marketing strategies that has over the years, detected and capitalized opportunities in the growing media, advertising and branding marketplace.
As the son of Pentecostal missionary parents, his childhood education spun across the length and breadth of Ghana, finally settling at Yilo Krobo Secondary School, majoring in accounting.

Dr. Dickson Narh, from 1992 became the Financial Administrator of Peace Fm (Radio), subsequently growing it into a media powerhouse under his directorship and currently serves as the Executive Director of the Despite Media Group encompassing Peace FM, HELLO FM, Okay FM, Neat FM with the latest addition being United Television (UTV).

Dr. Dickson Narh as part of the many laurels won was recently inducted into the 2018 Hall of Fame at the 2nd annual Ghana Entertainment Awards Celebration held in the United States of America and also decorated with the prestigious honorary doctorate degree award conferred on him by the Alfred Nobel University, under the auspices of the Ministry of Education, Ukraine.

Dr.Fadda Dickson Narh is Married to Kate Dickson Narh, with two biological Children, Irvine Kofi Narh and Fadda Dickson Narh Jnr.
Source: Charles Ntiamoah-Mensah