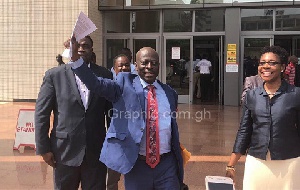 The Electoral Commission has 12 months, starting January 1, 2018, to register every eligible Ghanaian resident outside the country and enable them to vote in the 2020 general elections and any referendum.
This was the main thrust of the Accra High Court's judgment on the Representation of the People Amendment Act, also known ROPAA law [Act 699] on Monday.

"It is discriminatory for 1st Respondent to continue to register abroad and ensure that a category of citizens studying abroad or working in Ghana's Missions/ Embassies abroad vote in public elections and referenda while living abroad to the exclusion of Applicants and other similarly circumstanced Ghanaian citizens;" the court said in a judgment signed by High Court Judge, Justice Anthony K. Yeboah.


Please embed in ROPAA stories