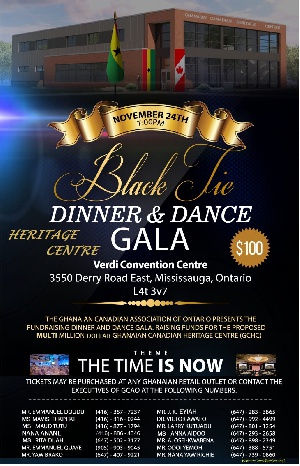 Sat, 24 Nov 2018 Source: Joseph Kingsley Eyiah
The Leadership of the Ghanaian Canadian Association of Ontario (GCAO) also known as Ghana Union, and the whole Toronto Ghanaian Community is organizing a Black Tie Dinner Dance on Saturday, November 24th, 2018 at the Verdi Convention Centre, 3550 Derry Road East, Mississauga to raise funds in aid of the proposed Ghanaian Canadian Heritage Center to be built in Toronto soon.
Speaking to the Ghanaweb in Toronto early this week, the President of the GCAO, Mr. Emmanuel Duodu said, "Our community, at an inflexion point, needs all the brains, resources, talents to take the community to the next level/phase.

Harnessing resources to build The Heritage Center has taken off. Three things need to happen quickly to accelerate

• Seed Money needed to acquire properties we have identified

• Raise money within our community

• Raise money from businesses, philanthropy and government agencies
"It is an initiative, the GCAO and all the Ghanaian community in Toronto and Ontario are extremely excited about. We find it timely and imperative that we come together as a body to network, raise funds for the proposed Multimillion Dollar Ghanaian Canadian Heritage Centre.

"Community Development is key and impacts the daily life of all human beings in numerous ways, e.g. The quality of life of our young people and aging population."

This Heritage Hub when completed will serve as a Centre of education to improve quality of life; Cultural and traditional heritage; Mentorship to various Vocations and also an access to professionals in e.g. Law, health, immigration, Mental health and wellbeing.

Hence the need for this project.
Source: Joseph Kingsley Eyiah