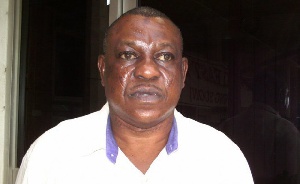 Sun, 7 Jan 2018 Source: Daniel Kaku
The opposition National Democratic Congress (NDC) branch of Atlanta in the United State of America (U.S.A), has extended its heartfelt condolences to the family and friends as well as all members of the NDC party of the late Ace journalist, Alhaji Baturi.
Alhaji Baturi, who was the Editor of the Al-Hajj newspaper and a staunch member of the NDC passed away on Friday, January 5, 2018, at the Korle Bu Teaching Hospital following a short illness.

He was the first person to host 'Alhaji and Alhaji' on Accra-based Radio Gold station and a regular panellist on Adom TV every Tuesdays for the NDC with Hon. Kennedy Agyapong of the NPP.

He was buried on Saturday, January 6, 2018, in accordance with Islamic law at the Nima Cemetery in Accra.

In a well-wish message issued by NDC Atlanta branch and signed by its Secretary Mr. Thomas E. Yankey popularly called Nobody stated, "As memories of his contributions to the party have overcome us with, and left us in uncontrollable tears and a feeling of acute nostalgia for our days with Alhaji, so do we think and feel that all of you are in the same situation.

The message copied to GhanaWeb also added that "Let us protect the Legacy Alhaji has bequeathed to NDC so that his body will not be turning in his grave at any time".


Mr. Yankey described the late Alhaji Bature as a Fallen Pillar of the NDC.

"God bless us all and may Alhaji rest in Perfect Peace", he wished.




Source: Daniel Kaku