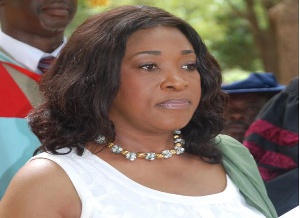 Foreign affairs minister, Shirley Ayorkor Botchway, says government will be handing over concerns of Ghanaians being maltreated by the US government during their deportation.
News reports making the rounds indicate that hundreds of Ghanaians living illegally in the United States were deported with heavy metal chained to their hands and feet throughout the 11-hour deportation flight.

This development saw parliament summon the foreign affairs minister to answer issues related to the upkeep of such deportees. So far the American government through its ambassador to Ghana, Robert Jackson, has argued that the over 500 deportees were treated with dignity.
But the foreign affairs minister is hopeful that all conflicting reports regarding the treatment of Ghanaian deportees will be clearly investigated upon by the national security.

Meanwhile, the US embassy in Ghana is warning of more subsequent deportations in the coming days following the strict immigration policies churned out by US president, Donald J. Trump.