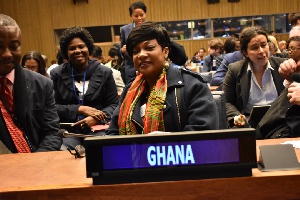 Tue, 30 Jan 2018 Source: Gordon Asare Bediako
The Minister of Gender, Children and Social Protection, Otiko Afisah Djaba, has touted the many social interventions being undertaken by the Ghanaian government at the United Nations.
Addressing the 56th session of the Commission on Socal Development at the United Nations on Monday, January 28, 2018, she mentioned among others the National Health Insurance Scheme, the School Feeding Program, the Livelihood and Empowerment Program (LEAP), Capitation Grant, Free Senior High School Education as some of the bold decisions by government to alleviate poverty.

She explained that all those strategic social interventions have helped Ghana to be one of the few countries to "meet the Millennium Development Goal of halving extreme poverty by the year 2015."

She also mentioned how the free SHS policy had helped over 90,000, students enrol in secondary school who hitherto would have stayed home because of financial constraints.

Madam Otiko Djaba further harped on the importance of the policy of Planting for Food and Jobs in the nation's quest to eradicate poverty by the year 2030.

The Minister is leading a high powered Ghanaian delegation from her Ministry, Parliament and Civil Society to attend the session which is on the theme "Strategies for eradicating poverty to achieve sustainable development for all".
Participants applauded Ghana over the giant initiatives taken to help the less privileged in society.

The fifty-sixth session of the Commission for Social Development (CSocD56) is taking place at the United Nations Headquarters in New York from 29 January to 7 February 2018.

The Commission is the advisory body responsible for the social development pillar of global development.

Background

Since the World Summit for Social Development in Copenhagen in 1995, the Commission for Social Development (CSocD) has been the key United Nations body in charge of the follow up and implementation of the Copenhagen Declaration and Programme of Action.
Originally known as the Social Commission but renamed in 1966, CSocD was established by ECOSOC res. 10 (II) (1946). Its purpose was to advise ECOSOC on social policies of a general character and, in particular, on all matters in the social field not covered by the specialised inter-governmental agencies. The Commission's mandate was further developed by ECOSOC resolutions 830J (XXXII) (1961), 1139 (XLI) (1966) and 1996/7. Since 2006, the Commission has taken up key social development themes as part of its follow up to the outcome of the Copenhagen Summit.

Membership

Originally 18, membership has been increased several times, most recently in 1996, and now stands at 46. Members are elected by ECOSOC based on equitable geographical distribution (as noted in the following list) for four-year terms. Until 2002, terms began on 1 January and ended on 31 December. Under ECOSOC decision 2002/210, terms now begin immediately after the Commission's regular session and end at the conclusion of a regular session.
Source: Gordon Asare Bediako