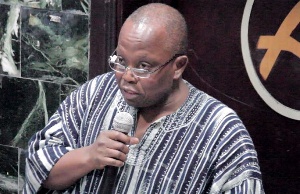 The executive summary of the auditor general's report for the year ending 31st December 2015 has revealed that some 116 MMDAs out of 201 owed a total amount of GHC9,428,730.92 as at the end of 2015.
The bulk of the Assemblies' debts were deposits made to the Assemblies and unpaid retention amount.

According to the AG's report, Sefwi Akontonmbra and Suaman Assembly coordinating directors and their finance officers willfully diverted ghc 150,981.00 lands revenue into privately opened bank accounts.

In view of this , the Auditor general has recommended that, management should report the theft to the police to institute the necessary action aimed at recovery of the stolen funds.

Total income 2015 201 MMDAs out of the 216 in 2015 accrued a total income of GHC1,228,259, 398.30 , the income sources remained unchanged and comprised of internally generated revenues and external inflows.

The internally generated funds accounted for 17.9% of the incomes on the average and amounted to ghc 219,769,349.41, whilst the external inflows were district Assemblies common fund allocations, government grants for salary payments accounted do budgetary support to decentralised department, and grants from Ghana's development partners.

Internal Generated Funds The IGF collections continued to declined acrose board mainly because management did not involve their finance and administration sub-commitee to review the rates to be paid as well as devise effective measures for collecting unpaid revenue.
The AG has said that , the general weaknesses in accounting for value books and revenue collected also contributed to the low record of IGF collections.

Operational Result A total expenditure of the 201 Assemblies amounted to ghc 1,095,075,584.65 as against a total income of the ghc 1,228,269,398.30 as a result, a net surplus of 133,183,813.65 was recorded.

Some 18 Assemblies however recorded a total deficit of ghc 8,640,697.91 in their operations. Assets The assets of the MMDAs comprised cash resources with the banks, investments in shares and interest bearing banking products in financial institutions and unredeemed loans granted under the poverty alleviation funds as well as uncovered advances with staff of the Assemblies.

The total bank balance of the 201 Assemblies as at 31 December 2015 was ghc 277,568,523.80 with none of the Assemblies endind the year with net overdrawn bank balance, The bulk of the bank balances were held by the metropolitan and municipal Assemblies.

Liabilities 116 of the 201 Assemblies owed a total of ghc 9,428,730.92 as at the end of the year. The bulk of the Assemblies, debts were deposits made to the Assemblies and unpaid retention amount.