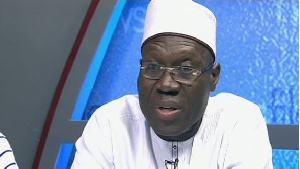 National Democratic Congress (NDC) MP for Tamale Central constituency, Alhaji Inusah Fuseini says President Akufo-Addo has lost his fight against corruption.
This is in relation to the President suspending the Chief Executive Officer of the Public Procurement Authority (PPA), Mr. AB Adjei after he was unmasked in an exposé over the alleged sale of contracts.

Mr. Adjei, per Investigative journalist, Manasseh Azure Awuni's latest piece, 'Contracts for Sale, was said to have established his own company under the name Talent Discovery Limited, incorporated in June 2017 which has won some government contracts through restrictive tendering.

He said the report "completely shatters" the Akufo-Addo government which has been "living in a bubble" when it comes to fighting corruption,"Inusah Fuseini told Kwame Tutu on Anopa Nkomo on Accra based Kingdom FM 107.7.

He said: "One of the serious challenges in this country is how we can handle sycophants, hypocrites, and bootlickers. That is a serious challenge, but it is because of the system, the process of getting into office. It is because of that process.
To him, it is clearly evidential that President Akufo-Addo is not committed to the fight against corruption; thus the government should not deliberately distort the substance of the allegation to an exposé over the alleged sale of contracts.

He stressed that there are many unanswered questions regarding the acquisition of contracts.

He adds that the government has failed in its fight against corruption and it cannot pin its hope in the passage of the Right to Information (RTI) Bill to fight the canker.1